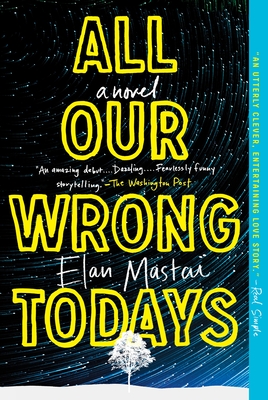 Our booksellers Jenn & Rebecca got the chance to ask one of their favorite authors five questions. Of course they couldn't stop at just five...
Elan Mastai is the author the book All Our Wrong Todays and has been a screenwriter for the past fifteen years.
1. The concept for
All Our Wrong Todays
is such an original twist on time travel. How did you come up with it?
I built a time machine and made some really bad personal decisions. The novel is basically autobiographical. No, look, I love time travel stories but it always bothered me that they rarely take into consideration that the Earth moves. Like, really fast and really far every single minute of the day. Traveling back in time even a short duration also means traveling in space an immensely far distance. I thought it would be fun to imagine a method of time travel that took actual orbital mechanics into consideration. From that super nerdy technical point the novel's plot—which thankfully has very little to do with orbital mechanics—grew. I'd also been thinking a lot about how our ideas of utopia and dystopia had evolved since I was a kid and when it occurred to me I could combine both ideas, the novel slid into focus.