Job Title: General Manager
On your nightstand now: The Difference Maker – John Maxwell
Favorite book when you were a child: Where's Waldo? – Martin Handford
Your top five authors: David Schwartz, Robert Kiyosaki, John Maxwell, Dale Carnegie, Napoleon Hill
Book you've faked reading: The Art of War – Sun Tzu
Book you've bought for the cover: Assholes Finish First – Tucker Max
Book that changed your life: The Magic of Thinking Big – David Schwartz
Favorite line from a book: "Self-discipline begins with the mastery of your thoughts. If you don't control what you think, you can't control what you do. Simply, self-discipline enables you to think first and act afterward." – Think & Grow Rich, Napoleon Hill
Book you most want to read again for the first time: Bible
Book you'd take with you to a desert island: Cast Away - Lucy Irvine
Favorite quotation: "There are three kinds of men. The one that learns by reading. The few who learn by observation. The rest of them have to pee on the electric fence for themselves." – Will Rogers
Song that has played the most on your MP3 player: "I'm Gonna Miss Her (The Fishin' Song)" – The Countdown Singers
Best way to spend a weekend: With family and outside
Your go-to pick for movie night: Anything at the Drive in Movie Theater
Favorite Vacation Destination: Myrtle Beach
Window or Aisle: Window
What is the first giveaway that a book is going to be good: Plain covers without artwork used for attention
Best TV or Movie adaptation of a book: Journey to the Center of the Earth
Book character you would like to play in a movie: Peter Pan (without the tights)
Website you have spent the most time reading: Fox News
Mark's Recent Reviews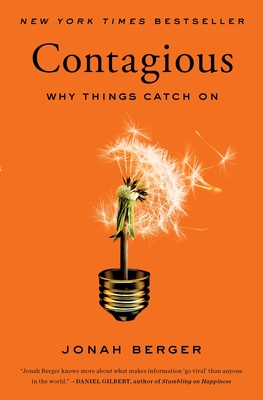 We all know the power of word-of-mouth and how it affects sales, but with
Contagious: Why Things Catch On
we can begin to know why and understand. Jonah Berger breaks the concepts down into talking points with his well-written and easy to understand six STEPPS. Business owner to Marketing professional and all those in-between will benefit from reading this book.
A Hudson Booksellers Best Book of 2013
Nothing to Lose, Everything to Gain
is often criticized for being just PR. However, those who state that miss the point. Ryan teaches us through the lessons he learned, which are pure inspiration. Going from gang member and even serving time, to entrepreneur. From having the right influences, listening to the right people, and try/fail/adjust mentality we learn not to give up. Dream big. Ryan didn't try to do everything by himself but shows how, pride aside, with the right mentors and networking goals are met with accomplishments.
Read all of Mark's reviews