Job Title: Entertainer
On your nightstand now: Wallace: The Underdog Who Conquered a Sport, Saved a Marriage, and Championed Pit Bulls--One Flying Disc at a Time by Jim Gorant, and Oogy: The Dog Only a Family Could Love by Larry Levin
Favorite book when you were a puppy: Harry the Dirty Dog (mud is the best stuff ever!)
Your top five authors: Jon Katz, Cesar Milan (it feels like he is whispering in my ear!), James Herriot (I mean, what dog wouldn't want to go visit a farm in the country?), Garth Stein, and Alexandra Horowitz (she really understands me!)
Book you've faked reading: All of them – I can't read, silly!
Book you are an evangelist for: Walter the Farting Dog – Poor Walter is just misunderstood! And we are all a little smelly sometimes (especially when we get into food we aren't supposed to eat…)
Book you've bought for the cover: Underwater Dogs. Those guys look funny!
Book that changed your life: Nose Down, Eyes Up by Merrill Markoe – I learned some very good advice on how to look sweet so that I can get what I want.
Favorite line from a book: "Go, dog. Go!" from Go, Dog. Go! by P.D. Eastman. I like to go!
Favorite quotation: "Good Boy!" - mommy
Song that has played the most on your MP3 player: Walkin' the Dog by Aerosmith
Best way to spend a weekend: Running, chasing tennis balls, playing with other dogs, running, chasing squirrels, chewing sticks, running, licking myself, rolling in the grass, and then running some more!
Your go-to pick for movie night: All Dogs Go To Heaven
Favorite Vacation Destination: The beach! It's fun to splash in the waves and chase the seagulls. I have to protect mommy by barking at the waves when they get too close though.
Window or Aisle: I like to stick my head out the window
What is the first giveaway that a book is going to be good: I have to chew on the corner to see how it tastes.
Book character you would like to play in a movie: Rin Tin Tin – I am a good boy and can be very heroic.
Website you have spent the most time reading: The Unexpected Pit Bull and Peace and Paws - Giddy and Twinkle are my favorite!
Chewy's Recent Reviews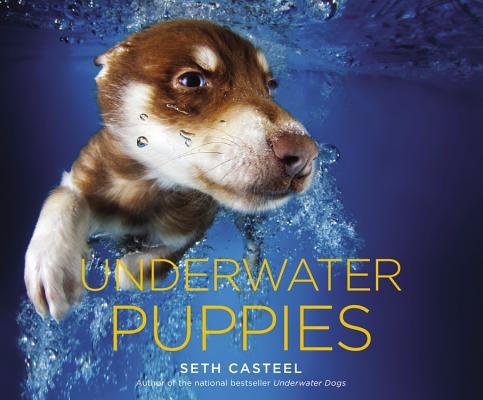 These puppies look so silly! Their faces look funny under the water. I want to swim and chase the ball! I am handsome and am sure I would never look silly underwater.

Ball!